Parking has its Perks. ℠
Join Colonial Plus for special parking & other promotional discounts including the following:
15% Off DC Urban Adventure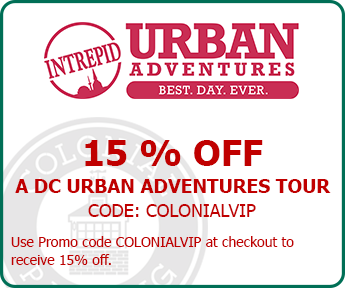 Website:Urbanadventures.com
Click Here for Available DC Tours
Need a little adventure in your life? Urban Adventures can give you just that and teach you a bit more about DC. They also have a ton of options, including, food tours, shopping tours, museum tours and more.
The best part is, Urban Adventures has offered to give Colonial Plus members a special 15% discount – just use promo code ColonialVIP at checkout.
Already have your tour scheduled? Find close, convenient parking at one of our area garages.
---
Oyster Happy Hour Every Monday – Friday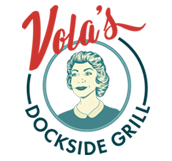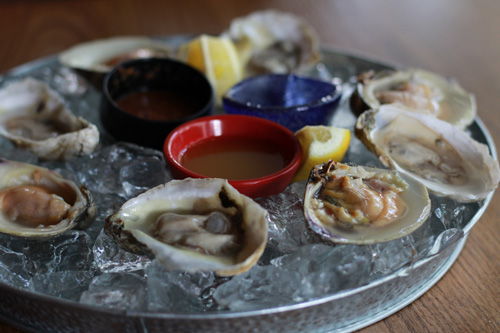 101 N. Union Street
Alexandria, VA
703-935-8890
Website: volasdockside.com
Vola's Dockside Grill, a relaxed and casual style seafood restaurant, is now open and features outdoor seating, a main dining room and bar area with a view of the Old Town Alexandria waterfront. Perfect for a late summer day. And, if oysters are your thing, come to Vola's Oyster Hour, 3-6PM, every Monday through Friday, for half-off all oysters on the half-shell.
Park easy by reserving your space at our parking facility located at 102 North Union Street in Alexandria, just across the street from Vola's.
---
$20 Your First Washio Order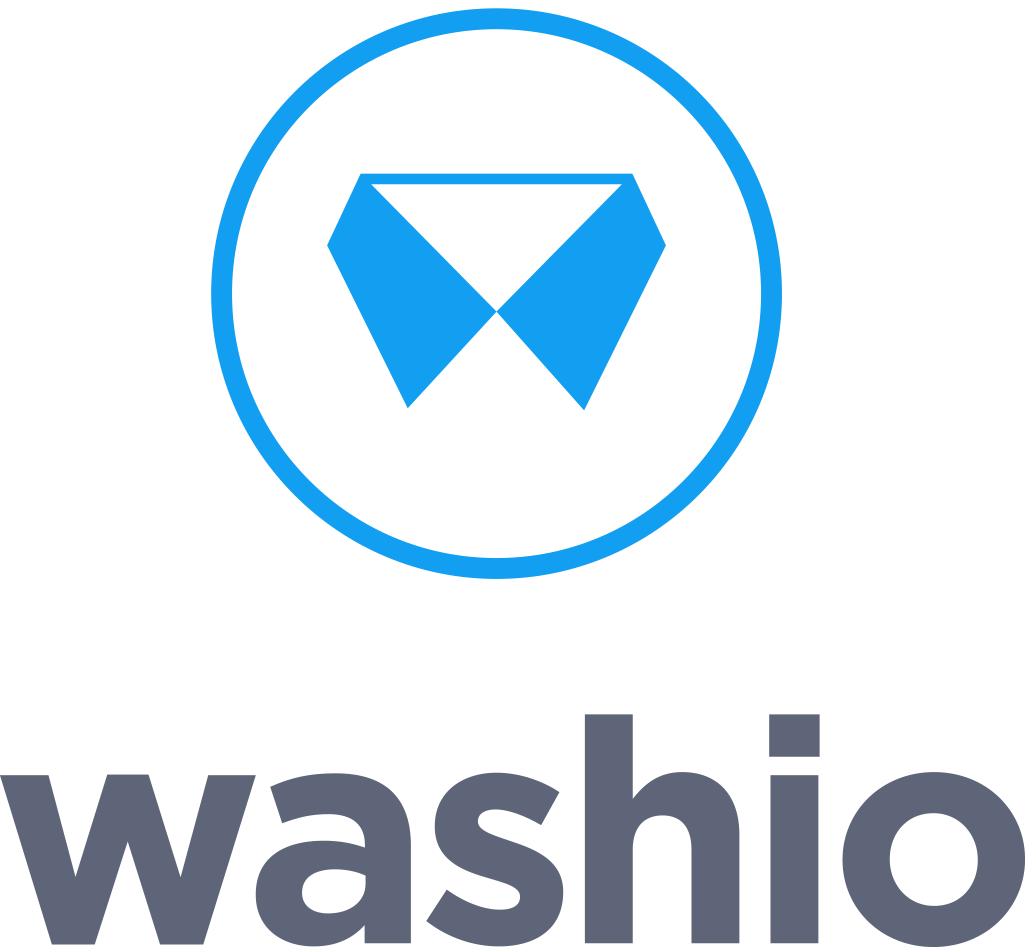 Website: getwashio.com
Washio offers premium dry cleaning & laundry services
delivered to your home or office.  Now serving all of DC and
parts of Northern Virginia.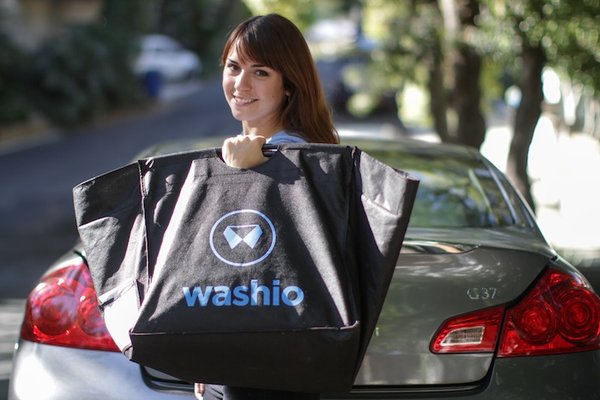 The days of dropping off your dry cleaning and then remembering to pick it up are OVER! Washio is the app for on-demand quality, eco-friendly dry cleaning at affordable rates. Think Uber but for dry cleaning. Place an order today and get your clothes picked-up and delivered back to you in 24 HOURS! From your home or office.
Because you are a Colonial Plus® member, you get $20 off your first order. To redeem this offer, use the code "Colonial20" when placing your order.  There is no cost to join Washio so get Washio now!  Plus you get these great reusable bags for your dry cleaning.
Download their app for affordable, clean clothes at the tap of a button. Available at the App Store or on Google Play.
---
$55 Membership & $30 Credit for Driving Time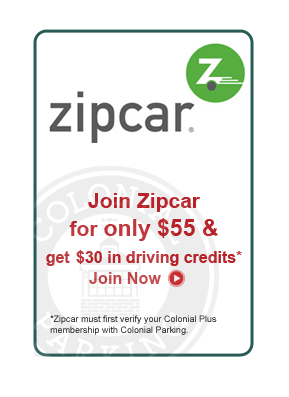 Website: zipcar.com
Sign-up: zipcar.com/colonialplus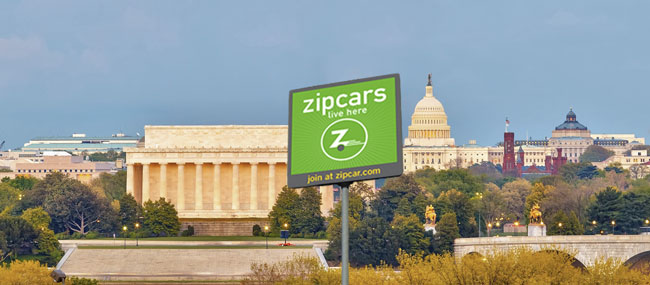 Imagine the convenience of having a car parked right around the corner — and now at Colonial Parking® garages, without any of the hassles or cost – that's zipcar. You can get around by the hour or day, and choose from MINIs, hybrids, trucks and more. Just join, reserve, unlock with your zipcard and drive away. Every reservation includes gas, insurance and 180 miles per day. And as a Colonial Plus® member, you can join Zipcar for just $55 (a savings of 35%) and receive $30 in driving credits.
Already have a car? Many zipcar members use zipcar as a second or third car. Or even while traveling. Zipcars are now located in 25 metropolitan cities, making travel even more convenient.
You can find zipcars at the following Colonial Parking locations. Quantity varies by location.
1666 K Street NW
1025 Connecticut Avenue NW
1120 Connecticut Avenue NW
1425 K Street, NW
1730 Rhode Island Avenue NW
400 N. Capitol Street NW
1150 Connecticut Avenue NW
1400 16th Street NW
2415 18th Street NW
1901 L Street NW
1775 Eye Street NW
1711 Florida Avenue NW
1801 Pennsylvania Ave NW
1050 Thomas Jefferson Ave NW
1300 19th Street NW
600 Pennsylvania Avenue SE
425 8th Street NW
1199 Vermont Ave NW
50 Massachusetts Ave NE
1331 F Street NW
2328 Champlain Street NW
3053 M Street NW
---
10% Off Any Services of U.S. Vehicle Registration Services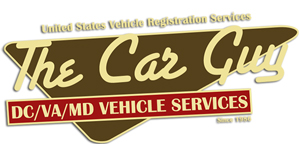 Website: usvrs.com
Phone: 202-342-2558
Mobile: 202-321-2558
Fax: 202-342-2559
Email: greg@usvrs.com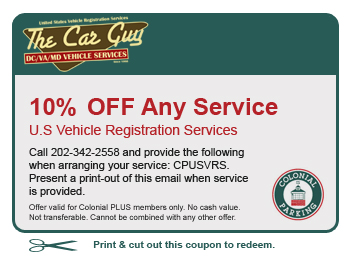 What's your time worth?
The USVRS Car Guy can save you time and hassle dealing with the Department of Motor Vehicles. And now, as a Colonial Plus® member, add money to the list of items you'll save on any of the following services:
* DC Inspection
* DC Duplicate Title
* DC/VA/MD Auto Body Works
* DC Title Work
---
20% OFF All Brake Parts & Labor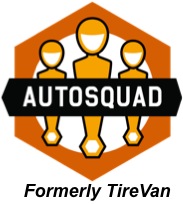 Phone: 855-4THESQUAD (855-484-3778)
Email: customerservice@autosquad.com
Web: www.autosquad.com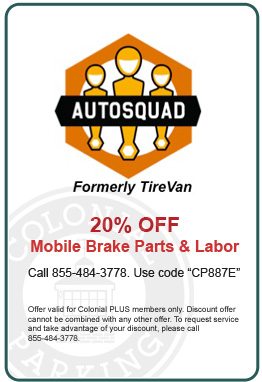 AutoSquad (formerly TireVan) also offers a convenient and inexpensive way to get your brakes and rotors replaced by highly trained technicians! Benefits include:
* Convenient brake and rotor installation at your home, work or participating Colonial Parking® garages
* High-quality parts
* No-hassle 60-day warranty on all brake services
* Competitive pricing – generally 10-20% lower than market rate
* Complimentary vehicle fluid inspection (oil, coolant and washer fluid top off) with purchase
For a quote, please visit AutoSquad.com/brakes or simply call us at 855-484-3778 to order. Please mention the code "CP887E."
---
FREE membership in AutoSquad's Advantage Program
including 20% Discount on tire installation services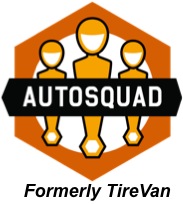 Phone: 855-4THESQUAD (855-484-3778)
Email: customerservice@autosquad.com
Web: www.autosquad.com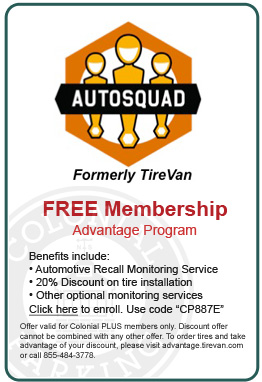 AutoSquad (formerly TireVan) is the fastest growing mobile tire retailer and installer in the US. The company has been serving the DC metro area since 2004 and has thousands of satisfied customers. Their formula?
Convenience
Getting new tires is now easier than ever! AutoSquad brings your new tires to your home or work and installs them on the spot. You can research, order and schedule appointments by visiting AutoSquad's website or by calling 855-4THESQUAD (855-484-3778).
Low Prices
AutoSquad offers the lowest prices in the DC metro area. Their prices are backed by their 110% low price guarantee*
Large Selection
AutoSquad  offers all Major makes & models including Michelin, BFGoodrich, Yokohama, Goodyear, Kumho etc.
Unbiased advice
AutoSquad  takes the consultative approach to selling tires. As you know, not all tires are created equal. So, if you are unsure of the tires you need, one of our tire experts will be happy to provide genuine recommendations based on your driving style, budget and performance preferences.
Highly trained & friendly technicians
All AutoSquad technicians go through rigorous training on the equipment we use (Hunter). AutoSquad hires the best in class tire technicians and they generally have many years of experience within the tire industry.
Quality equipment
AutoSquad  uses industry leading mounting & balancing equipment developed by Hunter Engineering. We also offer an extra level of balancing known as Road-Force – regularly recommended by BWM, Mercedes dealers.
And now, as a Colonial Plus® member, you are eligible for exclusive access into AutoSquad's Advantage Program for FREE (a savings of up to $50 annually).
Benefits Include:
20% Discount on tire installation services
Automotive Recall Monitoring Service (ARMS) –
Electronic tire tread wear tracking
State inspection reminders, and more…
Sign up only takes a minute. To enroll in this Colonial Plus perk, click here and enter the enrollment code "CP887E"  AutoSquad will verify your eligibility and confirm by email.