Congratulations Essays!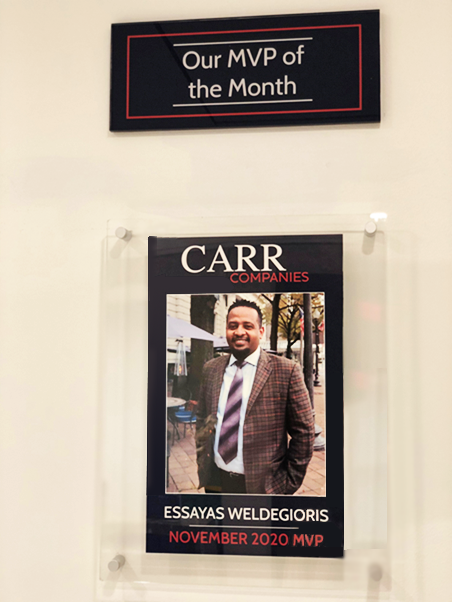 We are very excited and proud to announce that Senior Operations Manager, Essayas Weldegioris, was named MVP of the Month for The Carr Companies, a client and partner of Colonial Parking.
Essayas has been with Colonial Parking for 14 years and has managed and handled all of our parking operations for the Willard Center, a Carr property, since 2011. This honor is especially telling of Essayas' amazing work, as The Carr Companies do not often award it to employees outside the Carr organization.
Carr says of Essayas, "Essayas is a team player who goes above and beyond to support the Willard Center on a daily basis. A glimpse into the day of Essayas could involve any of the following: addressing an emergency broken sprinkler situation when a U-Haul truck tries to drive into the Willard garage; driving a stranded customer with two flat tires to the opposite side of DC, negotiating her tire purchase, and staying with her until her car is fixed; or accommodating a hotel or office guest request."
Congratulations Essayas, we could not be prouder to have you in the Colonial family.
---
About Colonial Parking: Colonial Parking manages 280 plus parking locations in the Washington, DC area. We are dedicated to providing exceptional service to both our customers and clients, as well as hiring trusted and driven employees that exude our integrity and accountability. We would be happy to review your project, be it large or small.